Las cucarachas se están volviendo 'imposibles de matar': estudio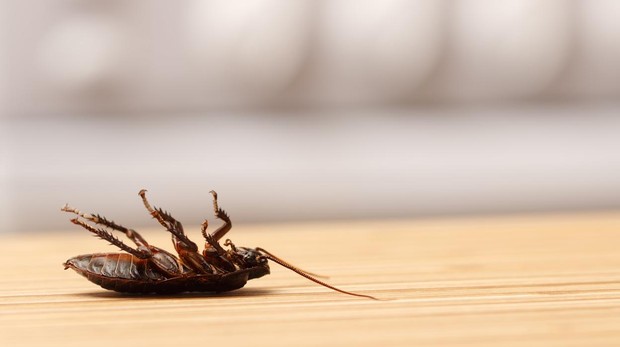 Las cucarachas han evolucionado rápidamente que se volvieron resistentes a casi todos los tipos de insecticida, por lo que pronto podrían ser casi imposibles de matar solo con productos químicos, este dato lo arroja un estudio publicado por la revista Nature.
Al realizar la búsqueda para determinar los métodos de erradicación más óptimos de estos insectos, los entomólogos de la Universidad Purdue de Indiana, en Estados Unidos, establecieron un experimento para verificar su existencia a los pesticidas en generaciones sucesivas, por lo que analizaron la especie más común: la Blattella germanica, más conocida como cucaracha rubia y alemana.
Para la investigación se probaron diferentes insecticidas en colonias de cucarachas dentro de varios edificios de departamentos en Indiana e Illinois, por espacio de seis meses. Un grupo de insectos fue expuesto a tres pesticidas que alternaban cada mes; otro grupo estuvo sometido a una mezcla de dos insecticidas por los seis meses y para el último grupo se usó un solo producto, al que los cucarachas tenían una baja resistencia.
El mejor resultado se obtuvo con el uso alterno de tres pesticidas, que logró mantener estable a la población de cucarachas; sin embargo, en los otros dos casos la población aumentó y los científicos hallaron que el problema empeoraba debido al desarrollo de una resistencia cruzada de los insectos.
Se indicó que los descendientes de las cucarachas nacieron tolerantes a los químicos a los que se vieron expuestos sus progenitores.
Según el líder de la investigación, Michael Scharf: «La resistencia aumentaba cuatro o seis veces en una sola generación.
«No teníamos ni idea de que algo así podría pasar tan rápido».
Las cucarachas se han convertido en una seria amenaza para la salud, ya que estos insectos son portadores de docenas de bacterias; su saliva, heces y partes del cuerpo que dejan atrás no solo pueden provocar algunas alergias y asma, sino que también causarían enfermedades en niños.
Fuente: RT
Escribe tu comentario
Comentarios
Capri, Hollywood Fest to Honor 'Once Upon a Time in Hollywood' for Best Ensemble solid
Quentin Tarantino's latest film will pick up another award on the road to the Oscars.
The Capri, Hollywood International Film Festival is set to honor Quentin Tarantino's Once Upon a Time in Hollywood with its best ensemble cast award.
The annual festival will honor the performances of lead castmembers Leonardo Di Caprio, Brad Pitt and Margot Robbie, as well as supporting players including Emile Hirsch, Margaret Qualley, Timothy Olyphant, Austin Butler, Dakota Fanning, Bruce Dern, Lena Dunham, Mikey Madison, Lorenza Izzo and Al Pacino.
"Combined, these amazing performers populate the captivating scenario of 1969 Los Angeles, arousing the enthusiasm of audiences from all around the world,» the festival's honorary president Tony Renis said Monday in a statement.
Once Upon a Time, Tarantino's ninth feature film, is expected to be a key awards contender. DiCaprio stars as aging TV star Rick Dalton, who, with his longtime stunt double, Cliff Booth (Pitt), struggles to adapt to the rapidly changing Hollywood industry. The pic has grossed $372 million worldwide and was a top box office attraction in Italy.
Capri, Hollywood continues to be a key destination on the road to the Golden Globes and the Academy Awards, given its timeframe over the New Year's holiday and glamorous location off the coast of Naples.
www.therockc4yd.org/123movieshd-watch-frozen-2-full-movie-2019-online-free-putlockerelsa
As previously announced, this year's fest will also honor Steven Zaillian for best adapted screenplay for Martin Scorsese's The Irishman and Marco Bellocchio for best international film for The Traitor.
Capri, Hollywood is set to run Dec. 26-Jan. 2. This year's edition is dedicated to the 100th anniversary of Italian filmmaker Gillo Pontecorvo's birth.
123MOVIES|!HD! Watch Frozen 2 FULL MOVIE (2019) Online Free PutlockerELSA
Escribe tu comentario
Comentarios
50 Years Later, Dick Van Dyke cannot Forget His «Bad Guy» Silent-M Clown Role
A half-century after the actor and director Carl Reiner tried depicting the life of churlish star in 'The Comic,' both Hollywood icons reflect on the career footnote: «What we were going for, really, was authenticity.»
Both Carl Reiner and Dick Van Dyke have always loved silent-movie clowns. At one point, they even teamed up to tell the story of one — a fictional composite of Charlie Chaplin, Buster Keaton and other superstars who was portrayed as a lying, cheating, egotistical jerk.
The movie — which opens on the protagonist's funeral, then jumps back through time — was called The Comic, and, shortly after it hit theaters in New York exactly 50 years ago on Nov. 19, it disappeared. But Van Dyke and Reiner can't quite forget the film, which has become an odd footnote in their legendary careers.
By way of backstory, Van Dyke, now 93, recalls to The Hollywood Reporter how he became friends with his silent-era idols Stan Laurel, who died in 1965, and Keaton, who passed away the following year. «I was looking through the phone book one day and there was his name,» recalls Van Dyke. «I thought, 'It can't be!' [But] I called and it was Stan Laurel! He had seen our show and knew who I was» —  in fact, Van Dyke and Henry Calvin had re-created a Stan Laurel and Oliver Hardy sketch in a 1963 episode of The Dick Van Dyke Show called «The Sam Pomerantz Scandals» — «so I went and visited him on several occasions. I have some wonderful pictures of the two of us up in his apartment.» Van Dyke also discovered Keaton in the phone book and visited him at his house in the San Fernando Valley.
Even before the Van Dyke Show ended in 1966, creator-producer-writer Reiner, now 97, and Van Dyke often talked about paying homage to these silent clowns. But both were busy with other projects almost immediately. Van Dyke was in demand for films — starring in such hits as 1967's Divorce American Style and Fitzwilly — while Reiner directed his first feature, the well-received Enter Laughing, based on his semi-autobiographical novel. He also wrote and starred in the Emmy-winning The Sid Caesar, Imogene Coca, Carl Reiner, Howard Morris Special, which reunited the cast of Your Show of Shows.
But in 1968, the duo set to work rewriting an old script at Columbia with Aaron Reuben. "What we were going for really was authenticity. We wanted to make it look like the era [as best] we could," says Van Dyke, who even visited a couple of silent-film actors at the Motion Picture & Television Country House and Hospital «just to talk and see what life was like.»
https://thehollywoodunlocked.com/putlockers-hd-watch-frozen-2-2019-online-full-for-free
Escribe tu comentario
Comentarios
Spirit Award Nominations Spotlight Indie Films in would like of a lift
Oscar contenders such as 'Uncut Gems,' 'Clemency' and 'The Lighthouse' will face off against frontrunners such as 'Marriage Story,' while A-listers like Jennifer Lopez share categories with breakouts like Lauren 'LoLo' Spencer.
Film Independent's Spirit Awards nominating committee clearly tried to give as many worthy films as possible a taste of the spotlight in the nominations for the 35th annual Spirit Awards that were announced on Thursday morning, while prioritizing films that truly needed a boost.
The Spirit Awards honor the year's best achievements for U.S. films made within a budget of $22.5 million.
It was a big day for indie studio A24, which led with 18 noms, including a field-leading five each for Benny Safdie and Josh Safdie's Uncut Gems and Robert Eggers' The Lighthouse.
Noah Baumbach's critically praised Marriage Story, which Netflix is pushing as hard as any indie is being pushed this season, was nominated for only two awards, but they are biggies: best feature and best screenplay. And the low tally is not because the nominating committee didn't like it, but because they found a way to show how much they liked it without having to deprive other films of more needed recognition: giving it the Robert Altman Award, which celebrates a director, cast and casting director, while also taking those individuals — among them Adam Driver, Scarlett Johansson, Alan Alda and Laura Dern — out of competition. I would imagine that all parties are pleased about that.
Apart from Marriage Story, Uncut Gems and Chinonye Chukwu's Clemency (Neon) are the only films to receive both feature and screenplay noms. The other feature nominees are The Farewell (A24) and A Hidden Life (Fox Searchlight), both very much on-the-bubble best picture Oscar contenders; and the other screenplay nominees are To Dust (Good Deed), which was written by Jason Begue and Shawn Snyder, and High Flying Bird (Netflix), penned by Tarell Alvin McCraney, both Oscar long shots.
Alma Har'el's Honey Boy (Amazon) landed four nods but disappointingly missed out on a feature nom. Har'el was nominated for directing, and the film's two principal stars, Shia LaBeouf and Noah Jupe, were both nominated in the supporting category. LaBeouf is continuing to build momentum towards an Oscar nom, which would cap a remarkable comeback. But perhaps we have been underestimating Jupe's prospects — the 14-year-old Brit very capably carries a large part of a film that many clearly love.
The Honey Boy duo is joined in the supporting male category by The Lighthouse's Willem Dafoe, an indie darling who may well be headed toward his third Oscar nomination in three years, plus Jonathan Majors for The Last Black Man in San Francisco (A24), a wonderful little film which probably needed a better showing on Thursday to remain even in the Oscar mix, and Wendell Pierce for Burning Cane (Array).
Kirill Mikhanovsky's Give Me Liberty (Music Box) landed a very impressive four nominations, thanks largely to a grassroots campaign being mounted by the boutique PR firm Robertson Taylor Partners, including one in the supporting female race acknowledging the excellent work of Lauren 'LoLo' Spencer, who plays a young woman with ALS on an unusually crazy day. (The actress has ALS in real life as well.)
Spencer is joined in the category by The Farewell's 'Nai Nai,' Zhao Shuzhen, a veteran Chinese actress who is chugging along towards what would be a feel-good Oscar nom; Oscar winner Octavia Spencer for Luce (Neon); Taylor Russell, a breakout from Waves (A24), which otherwise performed disappointingly with the nom-com; and the wild-card in the group, Jennifer Lopez for Hustlers (STX), who does not generally hang in indie circles, but who is undeniably amazing in this role and is probably en route to an Oscar nomination, at least.
Hustlers was also nominated for best director (Lorene Scafaria) — she and Har'el will compete against the Safdies, Eggers and Luce's Julius Onah — and best cinematography, a show of considerable strength for a film that was on few pundits' awards radar prior to breaking out at the Toronto International Film Festival.
Speaking of people not usually associated with indies, Adam Sandler's turn in Uncut Gems impressed the nom-com enough to land a best male lead nom, which keeps him very much in the mix of a hotly contested best actor Oscar race. He is joined in the category by Robert Pattinson for The Lighthouse, Kelvin Harrison, Jr. for Luce, Matthias Schoenaerts for The Mustang (Focus) and Chris Galust for Give Me Liberty, all much longer shots for Academy recognition.
tex.streetsblog.org/2019/11/22/hd123movies-watch-frozen-2-2019-online-full-free-putlockers
Renee Zellweger was always a slam-dunk female lead nominee for Judy. She is joined by two genuinely on-the-bubble contenders, Clemency's Alfre Woodard and Elisabeth Moss for Her Smell (Gunpower & Sky), plus three others from much lower-profile films, for whom this will almost certainly be the highlight of the season: Mary Kay Place for Diane (IFC), Karen Allen for Colewell (still seeking U.S. distribution) and Hong Chau for Driveways (still seeking U.S. distribution).
And then there is the international feature category. Film Independent voters nominated the Oscar entries from South Korea (Neon's Oscar frontrunner Parasite), France (Amazon's Les Miserables), Brazil (Amazon's Invisible Life) and Peru (Wolfe Releasing's Retablo), plus another film from France (Neon's Portrait of a Lady on Fire) and the U.K. (A24's The Souvenir) — but did not invite Jojo Rabbit, The Two Popes or any other English-language films which were actually eligible in that category.
#HD']123Movies!! WaTcH FROZEN 2 (2019) Online Full Free Putlocker'S
Escribe tu comentario
Comentarios